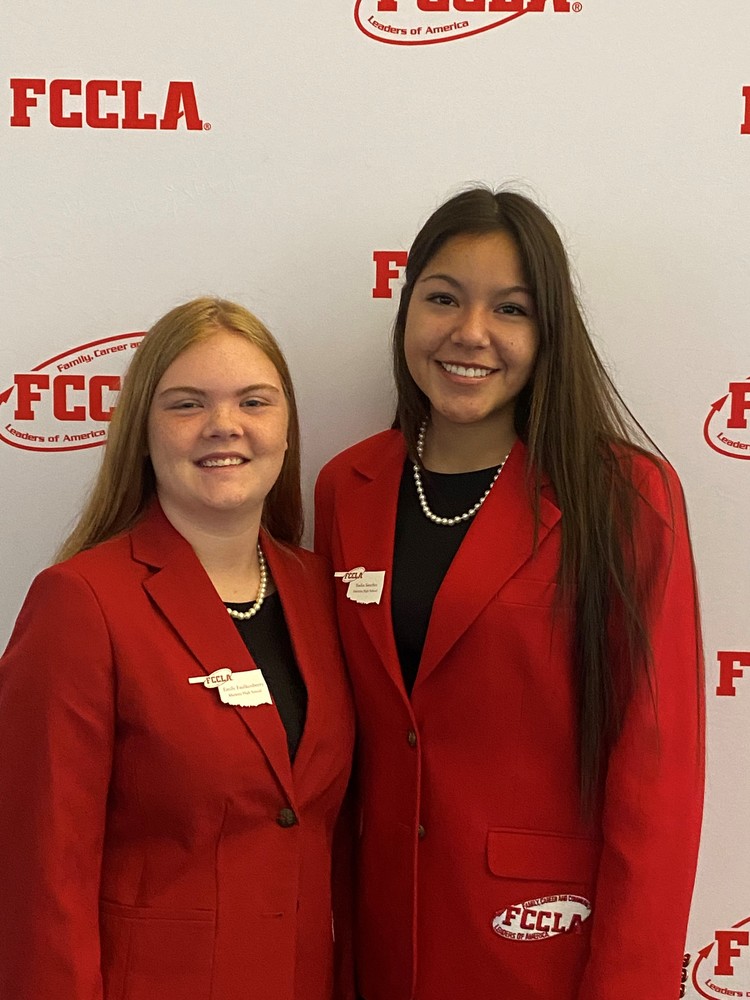 FCCLA members attend National Leadership Conference
Joani Hartin, Public Information Officer
Monday, July 12, 2021
After a year of no in-person events, National FCCLA hosted its first Hybrid National Conference in Nashville, Tennessee, June 27 through July 2.
Approximately 4,000 attendees were able to gather in person, while the conference streamed live for virtual attendees. Participants were able to attend workshops, general sessions including a fashion show, tour the National Museum of African American Music, take part in community Service projects, and finish out the conference with a little bit of fun at the NLC After Party.
Marietta FCCLA officers Yaslin Sanchez and Emily Faulkenberry, along with their advisor Mrs. Amanda Faulkenberry attended the in-person conference.
Emily Faulkenberry was selected through application process to be one of Oklahoma's six voting delegates. While attending the conference, she was able to network with national officer candidates from across the nation. The voting delegates listened to speeches and read resumes and applications from the national officer candidates before casting their state's vote for the 2021-2022 National FCCLA Executive Council.
Faulkenberry and Sanchez participated in the Teen Times casting call. Teen Times is the National FCCLA publication, which is published online quarterly.
Marietta Advisor Amanda Faulkenberry also received the Advisor Mentor Award as well as a graduation certificate for attending the National FCCLA Advisor Academy during the 2020-2021 school year.
Members had a great time making new friends from across the Nation, learning leadership skills to bring back to their chapter, and networking with other chapters for new ideas and learning about the National FCCLA programs and Star events available for students to compete in.
While attending the conference, members had the opportunity to explore the country music that makes Nashville a great place to visit. Tours of the Grand Ole Opry, Ryman Auditorium, and Country Music Hall of Fame, along with watching a performance at the Grand Ole Opry were just the icing on the cake of an already exciting conference.
"National Leadership Conference is always a great event," said Mrs. Faulkenberry. "It is the closing of the previous year and a start to the upcoming year. We all leave energized with new ideas and ready to start another new, exciting year in FCCLA."