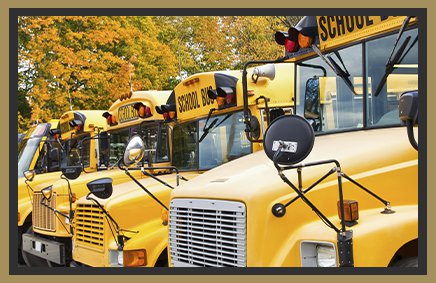 Marietta Public Schools is happy to provide safe bus transportation to qualifying students. Please check in with us regularly for updated bus routes and rules.
Students should remember that riding the bus is a privilege, not a right. All passengers must follow the bus rules in order to take advantage of this service.
Be on time to catch the bus.

Stand back from the curb about 10 feet as the bus approaches.

Never walk behind a bus. When crossing a street, walk forward about 10 steps, and wait for the driver to signal when it is safe.

Be seated immediately when entering the bus. If the driver has assigned a seat, that is the seat the student must sit in. Students must share seats.

Keep all parts of the body inside the bus.

Do not use improper language or unacceptable conduct. The driver makes this decision.

Students have permission to ride the bus as long as they observe all the safety and behavior regulations. For example, bus drivers may deny permission to students who fight, curse, or refuse to stay seated.

No horseplay.

All elementary students must load and unload in the designated areas.

Students must not deface a bus. We will hold the parents of such students legally liable for damages.

Rules will be posted on each bus. Students not complying will be subject to disciplinary action. All students will obey their drivers at all times.

Discipline Policy:

Please see student handbook for further details related to discipline action.
Whether our students ride the bus or a bicycle, their safe transport to and from school is important to us. Bicycle riders should follow these guidelines:
Bicycles should be in good condition and meet all safety requirements.

Riders should know and obey all traffic laws.

Students must park their bicycles in the bicycle racks, where they will remain until after school.

Marietta Elementary School will not be responsible for theft; students should use padlocks.