Breakfast: $1.50 / Lunch: $2.20
à La Carte: Extra $1.00 (Grades 6-12)

Extra Milk: $0.50 (Grades PreK-12)

Fruit Bowls: $2.00 (Grades 6-12)
We accept cash or check for payment.
FREE/REDUCED PRICED MEALS
Free/reduced price meals are available for qualifying students. Please print, complete, and submit this form to the front office at your child's school.
Reduced Breakfast: $0.30 / Reduced Lunch: $0.40
Marietta Public Schools allows the use of the school cafeteria, and other buildings, under certain circumstances. Any request for use of the school facilities must be pre-approved. Please complete the form below and return to the Superintendent office. Forms need to be submitted to the Superintendent Office one week prior to event.
Job Opportunities
Interested in working in our cafeteria? Apply at www.opaajobs.com
Click the apple for a current menu for all students!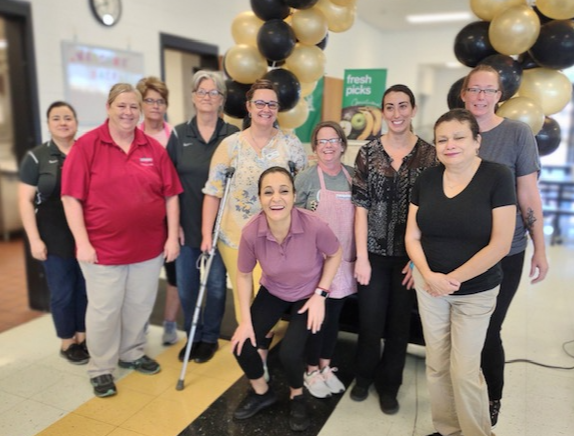 Marietta Public Schools understands the connection between good nutrition and good student performance. Our district participates in the National School Breakfast and Lunch Programs, ensuring the health and well-being of our students through a balanced diet.
Students at all three of our district schools share a common cafeteria where they receive a healthy breakfast and lunch every day. Students also have the option of bringing food from home.
Our cafeteria staff serves breakfast daily from 7:30 a.m. to 8:00 a.m. For lunch, we ask students to please abide by the following rules:
Students who bring their lunches must eat in the cafeteria.

Parents of students are welcome to join their child for lunch in the cafeteria on special occasions.

Students should use acceptable table manners and a quiet voice.

Students should clean their area of all food and cartons.

Students should walk when entering or exiting the cafeteria.

Students will not throw food nor eat the food of another student in the cafeteria.

We do not allow glass containers of any kind in the cafeteria.