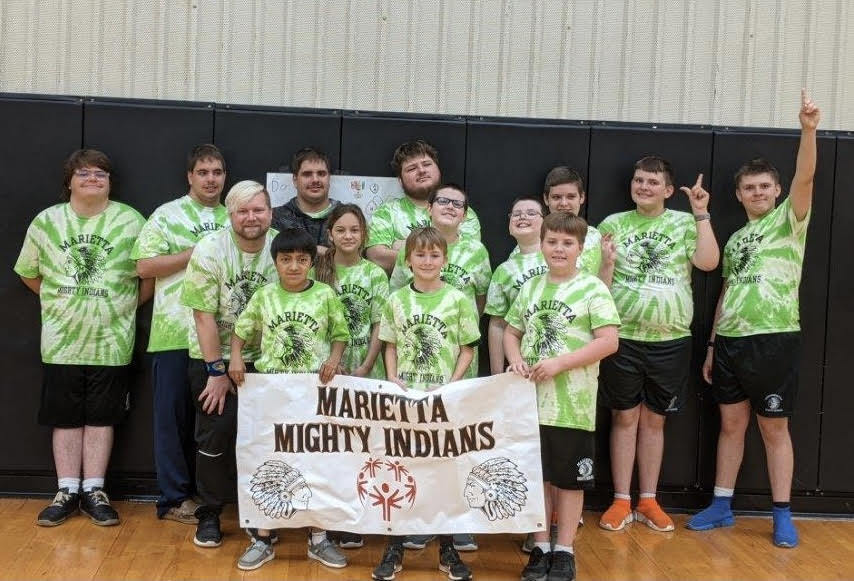 Marietta special Olympians participate in local events
Joani Hartin, Public Information Officer
Friday, May 21, 2021
For Marietta's Coach Maverick McClendon and his team of athletes, the Special Olympics, usually held every spring, is something they look forward to for months. Sadly, because of the COVID pandemic, the district events were converted to virtual this year.
But they didn't let that stop them. On Tuesday, May 11, they held their own events – albeit indoors because of rainy weather.
"Our school allowed us to hold events for all of the special Olympians in our district," said McClendon. "Our athletes competed just as hard as if they were at the district events. They were amazing!"
McClendon's team consists of athletes from fourth through twelfth grades. They are Jacob Hayes, Alex Russell, Eric Russell, Tyler Lambert, Kacee Harris, Aaron Austin, Kyle Austin, Trinity Mantzke, Wyatt Drain, Aidan Sanders, Kevin Sanchez, Memphis Matthews, Stetson Willis and Navia Cavener.
Athletes competed in art, bocce ball, long jump, 100-meter run, turbo javelin, and softball throw.
Although there was some disappointment about their change of venue, the students enjoyed participating in their events.
Placing in last Tuesday's games for high school students were Kacee Harris, first in softball throw, third in 100-meter dash, and fifth in horseshoes; Jacob Hayes, sixth in 100-meter dash and fourth in softball throw; and Tyler Lambert, second in softball throw and third in horseshoes and 100-meter dash.
From the middle school Aaron Austin placed first in art and softball throw, third in horseshoes, and fifth in the 100-meter dash; Kyle Austin placed second in the softball throw and third in art and the 100-meter dash, and sixth in horseshoes; and Navia Cavener placed first in art.
Placings for elementary students were Memphis Mathews, who placed first in softball throw and 100-meter dash, and second in horseshoes; Kevin Sanchez, who placed first in horseshoes and 100-meter dash and second in art and softball throw; and Stetson Willis, who placed third in art, softball throw, and 100-meter dash, and fourth in horseshoes.
"Special Olympics has helped me be more social and independent," said Wyatt Drain of his participation in the event.
McClendon and the team were greatly appreciative of the support they received from the school district.
"We got to have a parade of athletes through the halls of the elementary from Pre-K to the fifth grade," said McClendon. "We had amazing district support, from our superintendent, director, building principals, teachers, and even the other students. We are very grateful."
McClendon also mentioned his appreciation for his assistant coaches Hope Willis and Amanda Sanders and those volunteers who made the local events a success.
"I have absolutely loved watching our athletes do their best even in the tough times caused by the pandemic," McClendon continued. "We have four athletes – Tyler Lambert, Jacob Hayes, Alex Russell and Eric Russell – who are seniors this year, and we are sad to see them go, but have five little ones who will be joining the team next year and we are looking forward to having them, and are hoping to return to district events next year."