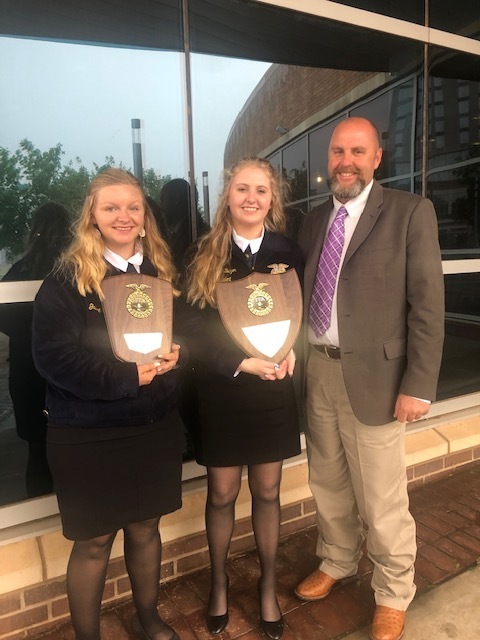 FFA members bring home prestigious honors
Joani Hartin, Public Information Officer
Friday, May 21, 2021
At this year's FFA State Convention held April 27-28 in Oklahoma City, two Marietta members, Cadence Bazor, daughter of Josh and Amanda Bazor, and Graicee Hicks, daughter of Thomas and Nikki Hicks, won Agricultural Proficiency Awards, some of the most coveted and toughest FFA awards to earn.
Agricultural Proficiency Awards honor FFA members who, through supervised agricultural experiences, have developed specialized skills that they can apply toward their future careers.
Students can compete for awards in nearly 50 areas ranging from agricultural communications to wildlife management. Proficiency awards are also recognized at local and state levels and provide recognition to members who are exploring and becoming established in agricultural career pathways.
Part of the supervised agriculture experience includes a lengthy application process where the student writes about their proficiency project, describing their responsibilities in the proficiency along with the skills they've learned and their goals for the project. They also provide pictorial documentation.
"There's over 40 hours of work in just the application process, not to mention all the hours that the students dedicated to the project itself," said FFA Advisor, Josh Bazor.
The proficiency application is submitted to the state where it's judged by a panel who selects the top three students in the state in each proficiency area.
Graicee placed in the state's top three in Ag Processing, where students take a raw agricultural product and process it to a consumable, marketable product. Graicee works in her family's business, which is growing pecans, harvesting them, and preparing both halves and pieces for shipping all over the country. Since Graicee placed in the state's top three but not first, she may reapply next year.
Cadence Bazor won the state competition in Forest Management and Products. The win earned her a $400 cash award, a $1,000 scholarship, and a trip to the regional proficiency competition held this summer. A win at regionals would send Cadence and her project to the national competition. National awards are presented in Indianapolis in October at the National FFA Convention.
Cadence also works in a family business, supplying cedar lumber and fencing products as well as firewood. She clears trees, and then prepares, sorts, and bundles lumber, and chops, stacks, and delivers firewood.
"For these girls to win proficiency awards is a big deal," explained Mr. Bazor. "We had a national finalist in 2003, Cody Gilham, and he's the only national finalist I've ever had. It's been several years – 2004 or 2005 – since we've had a student who wanted to undertake the award because the application process is so difficult."
For Cadence, winning the state proficiency award was the culmination of many hours of hard work.
"It was a lot of work!" she said. "First there's all the physical labor I've done, and then the application process was really tough, too. For me, it was a big deal to win because for so many years, I've watched as people walked across the stage when they won proficiency awards, and this year, I actually got to be the one walking across the stage and having people cheer for me. It was great."