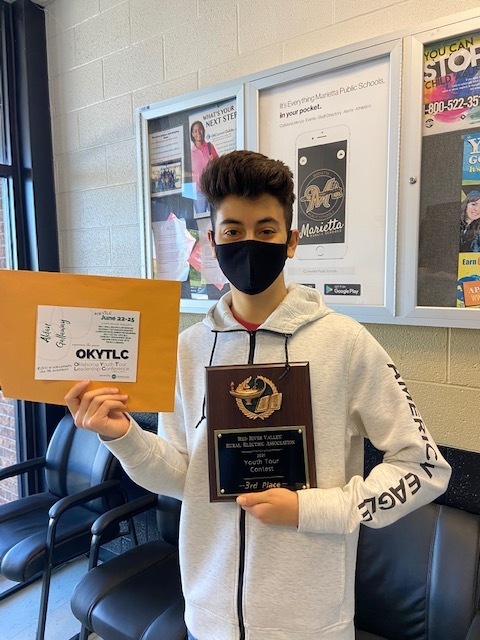 Aldan Gallaway awarded scholarship
Joani Hartin, Public Information Officer
Friday, April 30, 2021
Junior Aldan Gallaway was recently notified that he is the third-place winner in Red River Valley Electric Cooperative's annual scholarship contest. Aldan won a $500 scholarship and has the opportunity to attend a virtual leadership conference that will be held June 22-25 via Zoom. Several prominent guest speakers are expected, and students will be meeting the administration at both their local cooperative as well as the state-wide office of rural electric cooperatives.
Aldan entered the contest at the request of his English teacher, Tonya Bucher.
"He's a great student," said Bucher, "very respectful, responsible and mature. I wish I had several more just like him!"
Aldan's entry into the contest was a 500-word essay detailing his efforts to better his school and community by performing works of volunteerism and community service. His essay was entered into competition against other juniors in Ringling, Wilson, Madill, Kingston, Turner, and Thackerville, all schools within Red River Valley's service territory.
Gallaway was awarded his scholarship and a certificate by KorDale Lornes, Director of Marketing and Youth Tour Coordinator for RRVREA.
"Red River Valley REA is proud of our area students," said Lornes. "We have sponsored this program for a number of years and are excited that our students continually make us and their communities proud."
Aldan is the son of Eric and Danise Gallaway. He has attended Marietta Public Schools for 12 years and is a member of marching and concert bands and the high school academic team. He also plays in church orchestra.