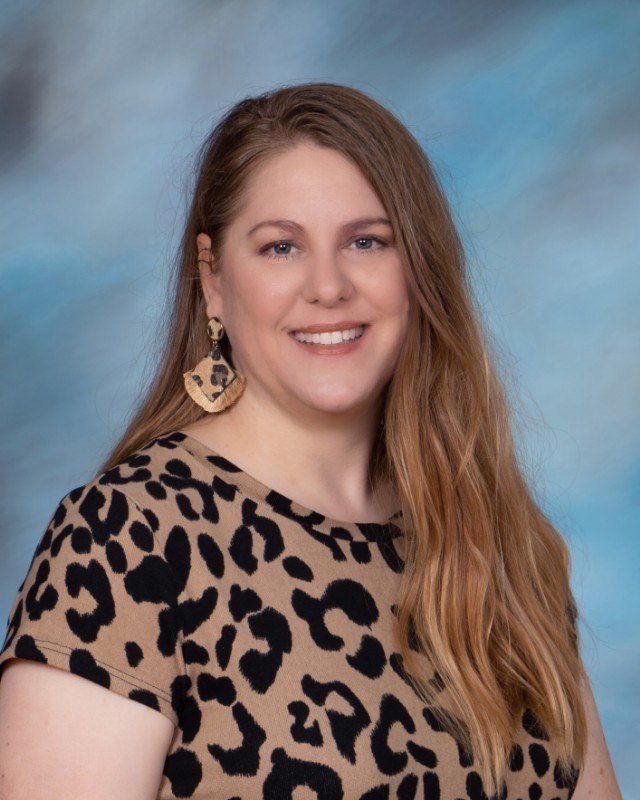 Tammy Blevins honored as Marietta's district teacher of the year
Joani Hartin, Public Information Officer
Friday, April 02, 2021
Pre-K veteran teacher Tammy Blevins has been chosen as Marietta Public Schools' district Teacher of the Year. Blevins is completing her 20th year in education, with 11 of those at Marietta.
Blevins grew up in Ada and graduated from Latta High School in 1992. She chose to remain in her hometown and attend college at East Central University, although at the time, becoming a teacher wasn't part of her future plans.
"I started college with a major in fashion merchandising, but changed during my sophomore year," Blevins said. "While I was in college, I taught a four-year-old Sunday School class and fell in love with teaching young children. I felt God directing me into education."
And so, Blevins changed her mind and her major, graduating in the fall of 1996 with a bachelor's degree in Early Childhood Education. Blevins's husband, Lantze was also an education major and future teacher.
"Lantze and I had married and wanted to raise a family," she said, "and I thought teaching would be a career that would allow me to be with my children."
At the time, East Central was promoting their new Early Childhood Education degree and Blevins was in the first class to earn that degree.
The Blevinses moved to Marietta in July of 1996. Lantze accepted a teaching position at Thackerville and Tammy began her student teaching at Marietta.
"I had two amazing career teachers who graciously welcomed me into their classrooms that semester," Blevins said. "Debra Hicks in kindergarten and Karen Wellman in second grade were my cooperating teachers and I am so grateful for the time they invested in me. They were a great encouragement and a positive influence on my teaching career."
After finishing her student teaching, Blevins began the search for a fulltime position during a time when teaching jobs were still hard to come by.
In 1998, she accepted a position at Springer teaching kindergarten. In 2000, Blevins moved to Marietta, where she spent seven years. The first was in second grade, the remainder in kindergarten.
In 2007, with three small children, the Blevinses chose to move back closer to Lantze's family in Stratford, where Tammy became a stay-at-home mom for a while before working as an Oklahoma Parents As Teachers Educator and spending a year teaching in a private preschool.
After a few years there, the family moved again, this time to accept positions in Erick Public Schools in western Oklahoma, where Blevins taught transitional first grade and kindergarten.
In 2017, Marietta offered both Lantze and Tammy positions. Lantze is a high school math teacher and Tammy is completing her fourth year of teaching Pre-K. The Blevinses also have three children in the district. Jayleigh is a senior, Lillian a sophomore, and Schuyler is in the eighth grade.
"As a teacher in primary grades, I want to inspire hope and instill a love of learning," Blevins said. "The first years of a child's life lay the foundation for their future, and I am proud to have a part in those early years of education. I love teaching, and as long as I am able, I plan to be in the classroom."
Blevins said that teaching during the pandemic has presented challenges, forcing her to get our of her comfort zone and teach virtually what young students learn better in a hands-on environment.
"I teach with an amazing team of teachers and support staff and am led by a great principal in Mrs. Rutledge," she said. "I have a strong group of colleagues that are my work family and they have challenged and encouraged me during this difficult time."
Primary Principal Ann Rutledge called Blevins a model teacher.
"Mrs. Blevins is an outstanding teacher who always manages to keep a positive attitude and a smile on her face," said Rutledge. "She is a patient, caring and kind person who always does what is best for her students."
Blevins was chosen as teacher of the year by the district's certified staff members.