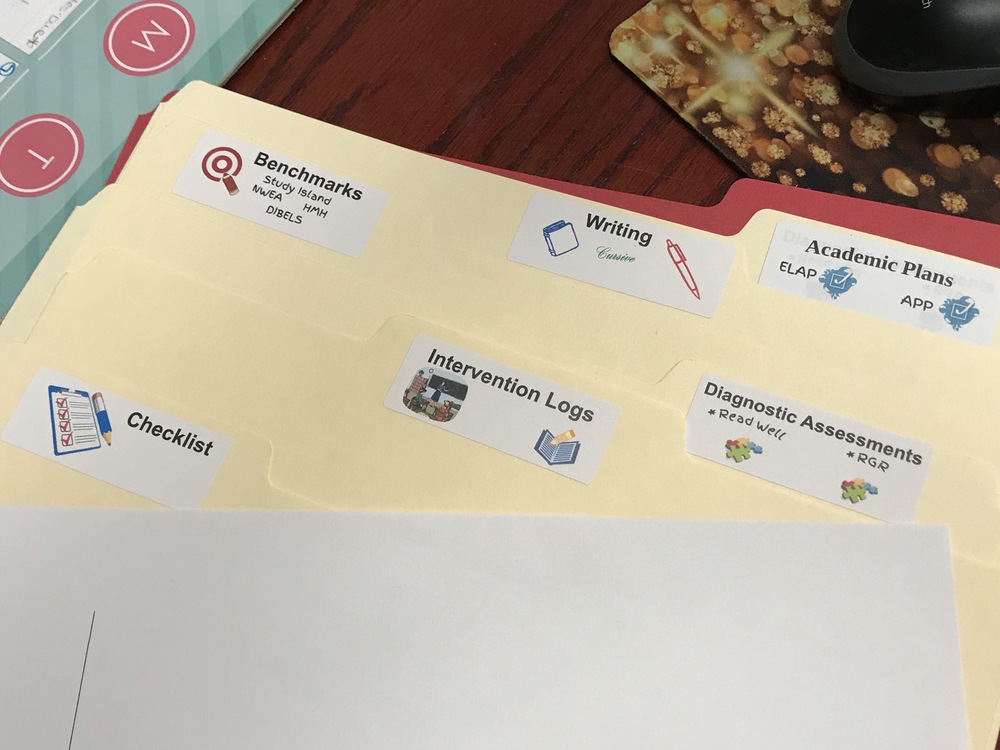 What's in your kid's folder?
Joani Hartin, Public Information Officer
Thursday, March 12, 2020
For most parents, the news that their child has a "folder" in the school office might be met with a little apprehension. In this case, it shouldn't be.
Recently, Marietta Primary Elementary Principal Ann Rutledge, Elementary Principal Dana McMillin, and faculty members at both sites implemented a new Portfolio Growth Folder.
The purpose of this folder is to track each student's progress as they move through the system. The folder will move with the student from grade to grade, allowing each teacher access to information vital to ensuring that students are exactly where they should be, academically speaking.
Several different data instruments are included in the folder. One important element is documentation for intervention.
"If a student is reading below grade level, they need extra support, so they go to intervention," said Rutledge. "Intervention is not punishment, there's nothing bad about it, it just gives a student extra time to master a key concept, and it's in a small group setting, which is much more effective."
Students could be in intervention for a day, or a week, or all year. It just depends on their mastery of the concepts being taught.
Really Great Reading is another element for students who are below their targeted reading level. The program relies heavily on phonics, which helps students learn to sound out words. Along with RGR, the Read Well curriculum is used with students in kindergarten through second grades.
"We chose Read Well because it encompasses all areas of reading, and was designed to be taught in small groups," said Rutledge, "and more importantly because we know from experience that it works."
Another big element of the folder is scores from benchmark testing. "Benchmark" is a schooly word that's basically a standard of measure for comparison.
Periodically throughout the year, students are screened. At the beginning of the year, the measurement establishes that standard. During the year, a second benchmark is done to compare to the first, hopefully showing growth.
At the year's end, the benchmark reveals what a child has learned during the school year, and also helps teachers for the next year identify areas of "summer slump," or any gains made during the year that were lost over the summer. If you want to get an elementary teacher stirred up in a hurry, ask about summer slump.
All benchmarks are important, and Marietta uses a few different types.
One is called DIBELS, a reading screening that checks comprehension and measures the correct number of words per minute. NWEA screening checks for knowledge across all core areas. And Study Island is a different benchmark that generates a report that shows individual student progress.
"One extra benefit to Study Island is that the questions are written in the same style as state mandated testing," said McMillin, "so that gets in a little extra test preparation for us."
The next part of the folder keeps track of a different core area, math. The folder stores benchmarks from the beginning, middle, and end of the year to chart students' progress in math.
In an effort to place more focus on written communication, the folder will also store four writing samples as benchmarks.
"We are in the process of creating a rubric and aligning our curriculum in third through fifth grades," said McMillin, "because we know we need to invest more time into making our kids better writers."
Additionally, the folder contains a state-mandated ELL Plan for English language learners. The plan includes input from teachers and parents and is highly individualized to align with the student's particular needs.
Lastly, by state mandate, all students who are below the appropriate reading grade level in kindergarten through third grades must have an Academic Progress Plan.
The contents of the Portfolio Growth Folder are accessible to parents at all times.
"These folders are an effort to help our teachers help kids by placing the data they need at their fingertips," said McMillin.
In recent years, both school sites have shifted their curriculum to focus on two important things: small groups and reading.
Why?
"The small group settings with just four or five kids are so effective," said McMillin, "because teachers can tell exactly what the kids are learning or not learning."
Research has definitely proven that to be true. And as for reading?
Statistics show that students who aren't reading at grade level by third grade are four times more likely to drop out of school. That's why both McMillin and Rutledge stress to parents the importance of reading with their children – every night.
"Reading is the most important thing we teach our kids," Rutledge stated. "If you can't read, you can't do anything else."
So if you're a parent of a student in Marietta Primary or Marietta Elementary School, feel free to visit with your child's teacher or principal and find out what's in your kid's folder.