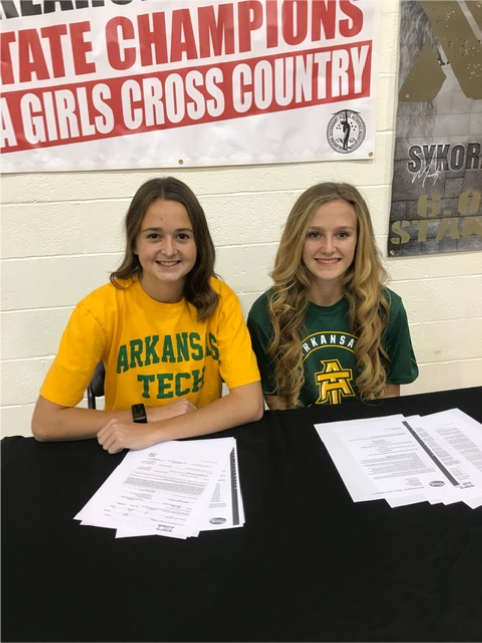 Dobbins and Sykora to run XC for Arkansas Tech University Golden Suns
Joani Hartin, Public Information Officer
Thursday, November 14, 2019
To anyone who knows anything about Oklahoma high school runners, finding out that several schools actively recruited Mandy Sykora and Kaelyn Dobbins is no surprise.
If their resumes were chocolate chip cookie dough, they'd be a delightful mix of cross country team championships with a few individual medals in track and cross country and some All-State honors thrown in for good measure.
As juniors and seniors, the duo won back-to-back state cross country titles and their 4 x 800 relay team was the state runner-up and set a new school record.
Their accomplishments are the likes of which Love County has not previously been witness to.
Simply put, they are elite athletes. And when Arkansas Tech University's Head Cross Country Coach Brock Hime got the opportunity to have both girls on his squad, he jumped on it.
"I've watched Kaelyn and Mandy run over the last few years, and to say they are good runners would be an understatement," said Hime. "To get them from a program like Marietta is big-time."
Although Mandy and Kaelyn had other choices, they ultimately set their sights on Arkansas Tech University and they signed their letters of intent on National Signing Day, November 13.
Arkansas Tech is the third largest university in Arkansas with an enrollment of over 12,000. The NCAA Division II school is a member of the Great American Conference. Located in Russellville, a city of approximately 30,000, Arkansas Tech was attractive to the girls for a number of reasons.
"I love the area, the campus, and the coach," said Sykora, "and I really am looking forward to getting to help build a team."
For Dobbins, it was more simple. Attending Arkansas Tech was the decision she felt most at peace about.
And while the choice might've been made for different reasons, the two are in agreement about a few things.
First, neither considered the other's decision as they made their own. They've been running all over the place together for a while, but that didn't mean they needed to go off to college and do it again.
Another thing they're on the same page about: the team aspect of running in college.
"In high school, the individual aspect was as important as the team," said Dobbins, "but in college the team aspect is more important."
According to Sykora, she looks forward to less focus on her running and more focus on helping the team.
"But, there are really high expectations for both of us," she added.
Along with their parents' support, the young ladies both credit former coach Matt Appelman with using both his contacts and his knowledge of college running programs to help them make their decisions.
After high school graduation in May – when, by the way, both will be finishing at the top of their class – you'd think they might take a little break. But no.
"We get our training program in June, go for a team retreat in mid-July, and report to school the first of August," said Dobbins.
Moving so far away from home is a little daunting for these small town girls, but they say they're excited to run for the Golden Suns, and Hime is tickled to have them.
"These are two young ladies who bring a lot to our program. They understand what it takes to win and they want it, they want to be good," he said. "I'm excited to have them."
Look out, Russellville, you're about to be invaded by Indians.
Heck yeah! Tech yeah!