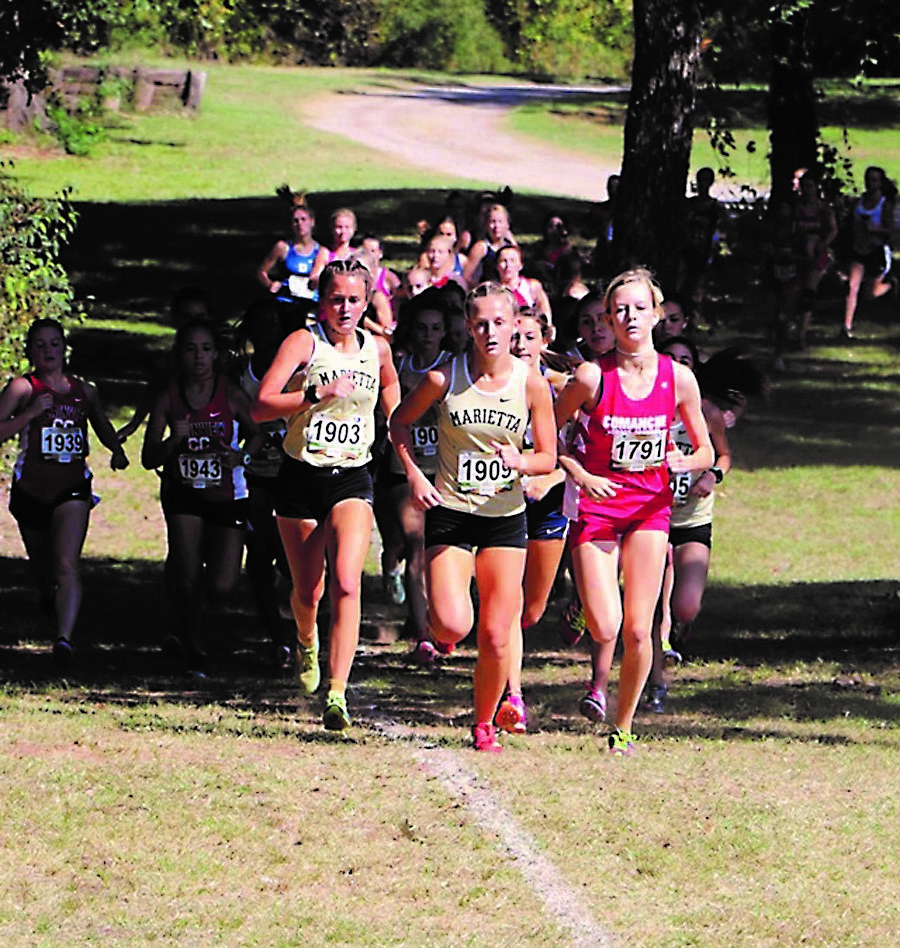 Marietta teams win cross country regionals
Joani Hartin, Public Information Officer
Thursday, October 24, 2019
Sophie Love. I don't know whether you've ever seen her or not. She's cute as a button, just a normal, if tiny Marietta High School student. But she was a big, big deal at the cross country regional race on Saturday, October 19 in Waurika. The Lady Indians team won the race. They won it by Sophie Love's nose.
Cross country team race winners are based on points. Each team runs seven members, and the fastest five times are figured into the assigned points.
At the end of the race, the Marietta Lady Indians and the Plainview Lady Indians were tied at 35 points each.
"When there's a tie, the tie breaker comes down to the sixth runner," said Coach Matt Appelman. "Sophie was our sixth runner and she finished ahead of Plainview's sixth runner."
To say the race was close, well, it's a bit of an understatement. Love was the Lady Indians sixth runner, and she did finish in 18th place. Plainview's sixth runner, Katie Wiggs, finished in 20th place, just five seconds behind Love. Marietta's total time for the race was 1:02.54, while Plainview's was 1:03.08, not even a full second behind.
"Our runners averaged 12:34, and Plainview's averaged 12:37," Appelman remarked. "The next best average time in the state was 4A Lincoln Christian at 12:57, and the next best 3A time in the state is Keifer at 13:15.
"I think it's easy to say that Plainview and Marietta are the best teams in the state right now, regardless of class."
Mandy Sykora, in her farewell tour, ran her best race of the season, winning in style with a time of 12:04.67, while Madison Lemons, Tanasia Randle and Abby Alvarez in sixth, tenth, and 19th places all ran new personal record times of 12:40.33, 12:43.39, and 13:26.05, respectively. Vanessa Rodriguez finished in 11th place in 12:43.74.
"Kaelyn Dobbins had an upper respiratory infection, so she struggled a little on Saturday," said Appelman, "but she will be back to full strength by state."
No slouch, even when sick, Dobbins ran seventh in 12:42.28. All seven of Marietta's Lady Indians finished the race in the top 20 runners.
The boys had a much easier time of it, winning their first-place bid with 47 points, far ahead of second-place Marlow with 77 and third-place Plainview with 80 points. Indian Wyatt Vinson finished in first place with a time of 17:01.70, followed closely by teammates Danny Sanchez in third with 17:45.19, Kyler Williams in sixth place with 18:06.38, and Wilbert Salas in 12th place in 18:42.11.
Sergio Gomez finished the race in 20:02.19, good enough for 25th place and Cash Waterhouse placed 28th in 20:09.36. Finishing in 45th place in the race of more than 80 runners was Indian Wyatt Gwin with a time of 21:53.99.
"The boys ran just a phenomenal race," Appelman said. "Wyatt Vinson had a kid on him the whole time, but didn't let it get in his head, just kept running his race and finally pulled away right at the end. I was so proud of him."
Another thing Appelman is proud of: the team will have one of their strongest runners back from an injury, just in time for the state meet.
"Colt Bartling will be back," remarked Appelman. "He could've run at regionals, but as a precaution we held him out so he'd be healthy for state. He could make a big difference."
Coach has a lot of faith in his teams, but refuses to make any predictions, instead choosing to keep his cards close the best.
"These kids have worked hard all year and we are running with a lot of confidence," he said. "I think we will put together our best performance at state next week. We're peaking at the right time."
The state meet will be held on Saturday, October 26 in Shawnee on the grounds of the Gordon Cooper Technology Center.