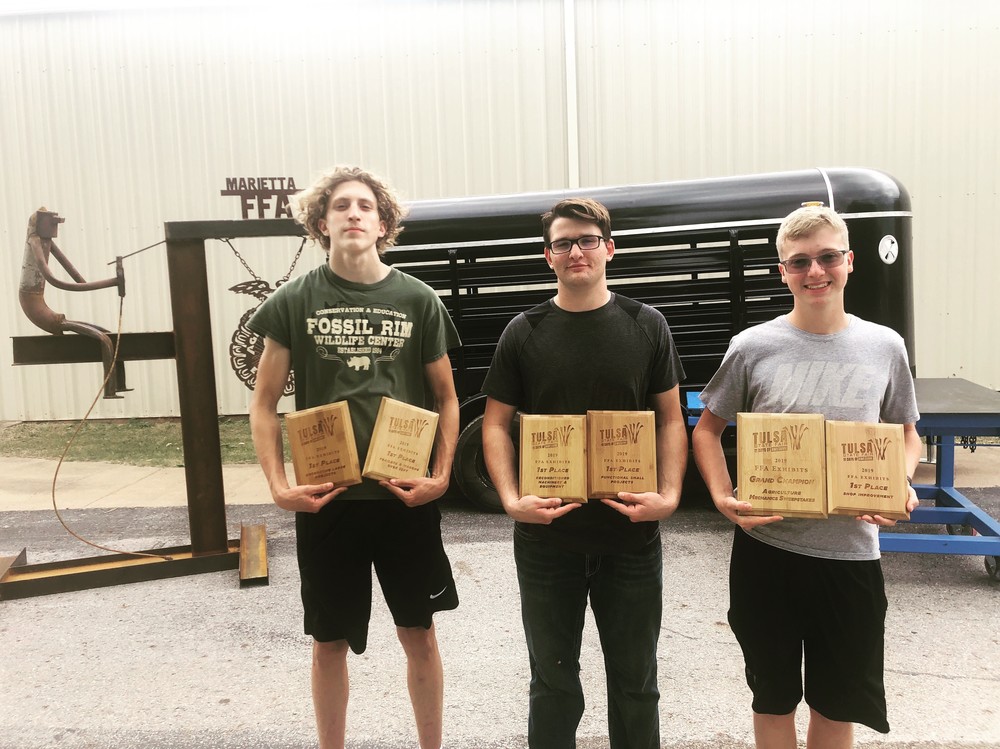 Twice as nice at Tulsa: Ag Mechanics class wins second state championship in less than a month
Joani Hartin, Public Information Officer
Tuesday, October 22, 2019
Marietta High School's FFA Advisor, Josh Bazor, and his Ag Mechanics class won the Oklahoma State Fair's Ag Mechanics state championship early in September. Then they turned around and did it again at the Tulsa State Fair, held September 26 through October 6.
The team won five of the 16 divisions and had one runner-up. They amassed a whopping 400 points compared to second-place Shattuck's 208.
Winners at the Tulsa State Fair included Sethan Reed in the large decorative group, Seth Brown in the refurbished equipment category, Nick Bierschenk in shop improvement, Caleb McGehee in the trailers over 16 feet category, Ezequiel Olguin in the small functional project category, and Pike Thompson, who was the state runner-up in pickup accessories.
Also placing were Colton Walker, third in trailers under 16 feet; Mandy Sykora, third in pickup accessories; Allison Hicks, fifth in pickup accessories; Cody Hicks, fourth in shop improvement and ninth in livestock products; Pike Thompson, sixth in farmstead improvement; Kadence Bazor, third in indoor furniture and eighth in farmstead improvement; Ulisez Fernandez, sixth in patio cookers; Austin Hartman, sixth in outdoor furniture; Bailee Gray, eighth in outdoor furniture; Nick Bierschenk, fourth in pickup accessories, fifth in large decorative items, sixth in small functional items and seventh in indoor furniture.
For Bazor and his group, it's not the first big win of the year, but it's also not the first time they've won both shows in the same year. They won championships at both Oklahoma City and Tulsa in 2017. But that doesn't mean they take it for granted.
"Tulsa is really busy for us because we show livestock, so we don't have as much time to worry about the Ag Mechanics projects and how they're doing," said Bazor. "It's a different set of judges, and the judging is subjective, so you just never know—but when you win it, it's great."