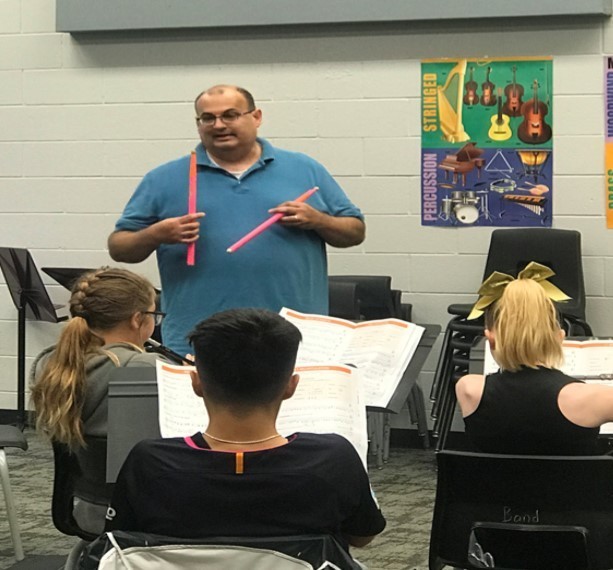 Teacher Feature: Eric Gallaway, Band Director
Joani Hartin, Public Information Officer
Tuesday, October 22, 2019
If you're hearing good things about and from Marietta High School's marching band this year, the guy who's at least partially responsible is band director Eric Gallaway. This year's halftime show features tunes from "Grease," and so far, it's been a hit.
"We're doing well this year, definitely worth listening to," said Gallaway. "I don't change the way I do things, but sometimes the pieces just fall together and everything clicks."
This year's band is over 50 strong; ten of those are seniors, which makes for a lot of experience.
"The drumline is small, but tight, we've got plenty of high and low brass and good woodwinds," Gallaway continued, "and the flag corps looks great. It's just a good group of kids."
Just a few weeks after beginning his 27th year at Marietta Public Schools, Gallaway took a few minutes to look back on his time with the Indians.
Gallaway began his career and his tenure at Marietta in the fall of 1993. A graduate of Alamagordo High School in Alamagordo, New Mexico and Eastern New Mexico University in Portales, New Mexico, where he earned his bachelor's degree in Music Education and had just recently received his master's degree in Music Performance, Gallaway and wife Danise were in South Dakota for a family wedding when they received a call from Danise's sister Nikki Powell that a job was available in Marietta. Daniece wanted to go to OU, and after the two looked at a map and decided it was driveable, Gallaway applied at Marietta and was hired. Their original plan had been to stay in Marietta long enough for Danise to finish school. Now, 27 years later, Dr. Danise Gallaway has her Ph.D. in Piano Performance and Pedagogy from the University of Oklahoma and teaches at Murray State College.
And Eric Gallaway has been Marietta's band director for a long, long time. He's actually a multigenerational institution at Marietta who's been teaching the kids of former students for quite a while. And that's not all.
"I've been through ten or 12 principals, I think five or six superintendents, a whole bunch of football coaches and teachers that have come and gone," said Gallaway, "Danise and I have raised two children of our own, and there's no telling how many band kids that have been through the program."
Like many teachers, Gallaway measures his success by the success of his students.
"Every year we qualify kids for state contest in solo and ensemble, and we've had a lot of kids who earn spots in the All-State band, and we've also taken the full band to state competition," he said, "and I've had kids who have earned scholarships for band – I used to know exactly how much, but after it exceeded $100,000, I stopped counting."
Gallaway is also particularly proud of former students who are now band directors, or have used their talents in church music ministries, and even kids who didn't major in music, but still played in college marching band.
"Being a band director has given me the opportunity to develop relationships with kids and invest in their lives, and sometimes you don't realize until a lot of years pass how much that investment meant to a kid," said Gallaway.
But in other ways, Gallaway's success isn't exactly measured like that of "regular" teachers.
"Most teachers get graded on how well their students perform on standardized tests, but performing arts is different," Gallaway remarked. "I get evaluated from the stands on Friday nights, and people are quick to let you know if they don't think you're doing a good job."
There are other ways that he measures the success of his program. One is retention. If kids don't come back to band next year, then eventually, he won't have a band to direct. Another is how well the pieces fit together in a given year.
"Some years are successful, some aren't," he said. "But I try to keep it in perspective. If a kid is having a difficult time in their life, then band can't always be their priority, and I try to remember that."
Not unlike a lot of other teachers of his experience and seasoning, Gallaway has seen technology change his program.
"I used to have a case full of tuners and metronomes and all kinds of things we had to use," he said. "Now, there's an app on my phone for all of it."
Gallaway laughed as he told about a drum machine that he now uses to add different beats to songs for beginning band students to help them with timing and rhythm. He spoke of how the kids would bob their heads as they played "Hot Cross Buns."
"I don't know if it's possible for 'Hot Cross Buns' to sound cool, but it does sound neat," he said with a smile. "The kids start bouncing up and down and sometimes I have to stop and tell them, 'Settle down, you can't dance and play the trumpet!'"
Technology may have resulted in a few changes, but there are some things that stay the same. For instance, there's only one way to hold a trumpet and make a sound. Another thing that hasn't changed is that you have to go through some really rough sounds from beginners to create more advanced musicians. And this is part of the beauty of Eric Gallaway. He is one of the most patient people you'll ever meet. Beginning band class might sound like a bunch of cats fighting inside a steel drum, but you'd never know it from his demeanor. When I remarked on his unfailing patience, he shared this story:
"One day during a beginning band class, one of my high school band parents came by to drop something off," he stated. "She came in and said, 'Mr. Gallaway, it's obvious I haven't been praying for you nearly enough.'"
In whatever capacity, whether it's director to the high school band, longsuffering teacher of beginning band, confidant to a kid in need, or a colleague who's a team player, Eric Gallaway fills a lot of needs and has for a long time.
"Eric Gallaway has been a long-standing pillar of our faculty at Marietta," said Superintendent Brandi Naylor. "He does a first-rate job with the band program and there's no doubt that he is talented.
"But above all, he is a kind and caring man and just one of the best people you'll ever meet. We're lucky to have someone of his caliber at Marietta."