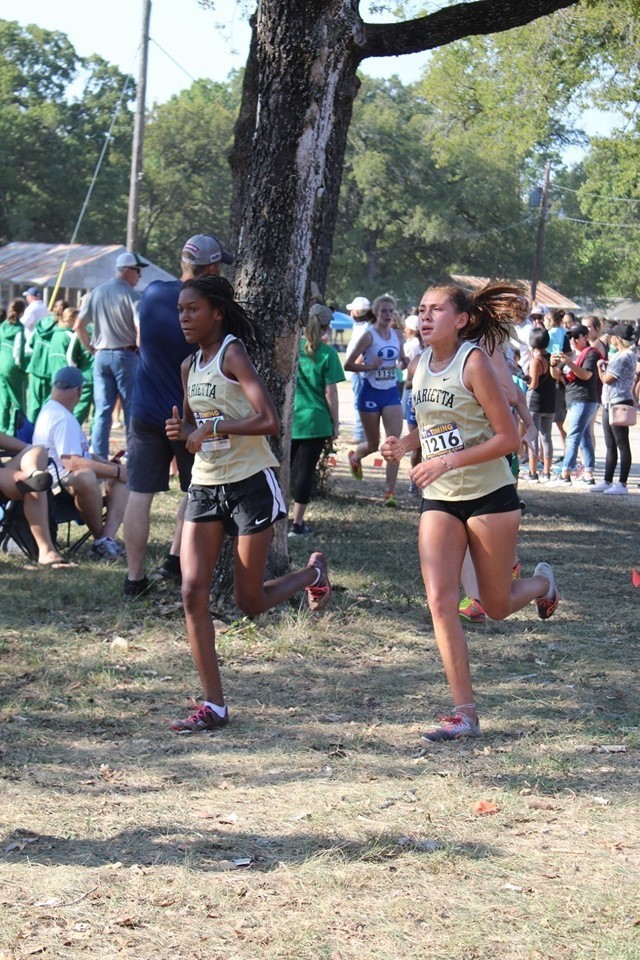 Lady Indians Cross Country beats Decatur at home
Joani Hartin, Public Information Officer
Thursday, October 10, 2019
You know, it's gotta hurt when a school half your size crosses the Red River and just puts a whoopin' on you, right on your home turf. But that's just what Coach Matt Appelman's Lady Indian Cross Country runners did at the Decatur Reunion Run on October 5.
"Decatur is ranked second in Texas class 4A and they're at least twice as big as we are, but we wanted to win that meet this year," said Appelman, "and we did."
And it wasn't even close. Marietta won the 3,200 meter varsity girls race with a score of 85 points. Decatur came in second with 100 points and Argyle, another Texas XC powerhouse, finished third with 118 points.
With over 150 runners in the race, Appelman's squad had four runners in the top 25. Seniors Mandy Sykora and Kaelyn Dobbins continue to dominate opponents. This week the duo ran sixth and 8th with times of 12:20.1 and 12:31.3, respectively.
Madison Lemons finished in 19th place with a time of 12:54.4, a PR for her. Tanasia Randle was 24th in 13:02.8.
Vanessa Rodrigues finished in 28th place with a time of 13:07.9, her fastest of the season, and Sophie Love ran 49th in 13:38.5.
"The girls ran solid across the board," Appelman said. "One of our preseason goals was to finish the regular season undefeated, and we were able to do that – and beating Decatur at home was a great way to finish the season."
Appelman's Indians also had a good day at the Reunion Run, finishing third behind Whitesboro and Pilot Point.
Freshman runner Wyatt Vinson won the 5K with a time of 16:51.8, another PR for him in a season of phenomenal races.
Not far behind Vinson in fourth place was teammate Danny Sanchez in 17:09.6. Kyler Williams finished in tenth place with a time of 18.11.4.
Wyatt Gwin and Sergio Gomez, both freshman runners, finished in 37th and 45th places respectively, with times of 19:40.9 and 20:21.9, and Preston Eastmon was 67th with 21:27.2.
Also along for the run, making Indian XC fans proud and giving them something to look forward to were several junior high runners who performed well at Decatur.
Jackson Yearby ran second in the 8th grade boys race with a time of 11:23.3.
And the 7th grade Lady Indians team won their division in convincing fashion. The JH Lady Indians finished with 49 points, far ahead of second-place Argyle's 82 and third-place Jacksboro's 85 team points.
Maddie Torres won the meet with a time of 13:09.7, followed closely by teammates Alina Fernandez in fifth place with 14:12.2, Liliana Fernandez in seventh place with 14:20.0, Arlette Andrade in 14th place with 15:29.0, Yulisa Gonzales in 32nd place with 16:36.0, Emma Gore in 34th place with 16:40.1, Brooklyn Baker in 38th place with 16:45.4, and Yadira Sanchez in 47th place with 17:39.6.
"We had a good day at Decatur," Appelman said. "Our whole team ran well."
Saturday, October 12 is an off-day for the XC teams before they head into the postseason the following weekend.
"It comes at a good time to give us a week to rest up and be geared up and ready for regionals," Appelman remarked.
Waurika hosts the regional XC meet on Saturday, October 19, followed by the state meet, to be run on the grounds of the Gordon Cooper Technology Center in Shawnee on October 26.