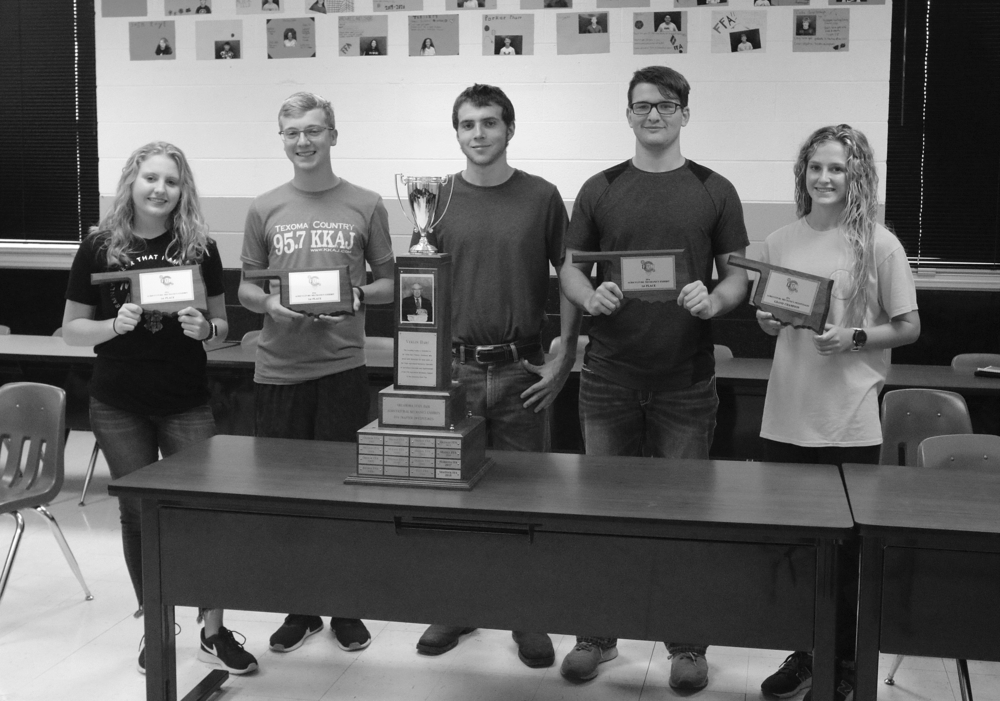 MHS Ag Mechanics class wins BIG!
Joani Hartin, Public Information Officer
Wednesday, September 25, 2019
Marietta High School's FFA Advisor Josh Bazor is proud as he can be, and with good reason: his Ag Mechanics class just won the championship at the Oklahoma State Fair.
The students entered 38 projects in 16 divisions, spanning from small decorative items all the way up to large trailers.
Last year, Bazor's bunch placed second behind Shattuck High School, which just didn't sit well. So this year, they came back with a real chip on their shoulders, willing to do whatever necessary to bring home the big trophy.
"This year, our cumulative points were over 400, and Shattuck only had 200," said Bazor, "so we were pretty happy about that."
Marietta's entries included a little bit of everything. There were small metal art projects, furniture of all kinds, a new trailer project, a refurbished trailer, a roping dummy, an animal waterer, a pickup bumper, a patio cooker, several hitch covers, and a picnic table, to name just a few.
Winning the competition isn't as easy as just bringing your best.
"You can take some projects that you think are just fantastic," Bazor remarked, "but you never know what other schools will bring, so it's hard to know what will impress the judges and what won't."
Bazor admits that he's a bit partial.
"I always think our projects are better and more creative than the ones that other schools bring," he said, "but lots of times my opinion and the judges' opinions don't exactly match up."
When it comes to creativity, it's hard to see how anything could beat what Bazor's bunch takes to the fair. Just a note: the projects must have been built within the last two years, so several of the exhibits were fabricated by students who graduated from high school in the spring of 2019.
One project that amazed me was a chess set constructed by recent graduate Ezequiel Olguin. The pieces are made with nuts, screws, bolts and various other pieces of scrap metal, and they actually resemble kings, queens, bishops, knights, and other pieces.
The attention to detail is phenomenal, particularly to someone such as myself who's completely lacking in creativity and can barely thread a bolt on a screw. Or differentiate between a bolt and a screw. Or weld.
The chess set was a runner-up at the fair.
Another project, a pickup bumper designed and built by Pike Thompson, is more practical, and won a championship in its division, but still took some skill to build.
"It was a lot of work, especially measuring and cutting all of the angles," said Thompson. "I couldn't have done it without Mr. Bazor's help."
FFA student Nick Bierschenk exhibited a grand champion shop table and a runner-up decorative piece, a longhorn made of horseshoes.
"We raise longhorn cattle," he said, "and I thought it would be cool to build one."
And it is – right down to the ear tag that displays the family's brand.
"Some kids just have the eye to make something from nothing," Bazor said. "Their creativity and attention to detail is amazing."
While some of the projects are large ones that require their own supply list, many of the projects are made from scraps and junk. But you know what they say: "One man's junk is another man's state fair winning project."
Ag Mechanics is a class that's always been near and dear to Bazor's heart.
"It is so rewarding to build something decorative or useful from a raw product," said Bazor, "and ag mechanics builds real life skills that kids can carry with them into the future."
And for Bazor's bunch, that's what it's all about.
A full list of winners is as follows:
•Trailers 16 feet and over – Caleb McGehee, state runner-up
•Trailers 16 feet and under – Colton Walker, fourth place
•Pickup accessories – Pike Thompson, state winner; Mandy Sykora, state runner-up; Allison Hicks, third place
•Livestock production – Cody Hicks, fifth place
•Farmstead improvement – Kadence Bazor, fourth place; Pike Thompson, eighth place; Diego Magallanes, 10th place
•Reconditioned equipment – Seth Brown, third place
•Shop improvement – Nick Bierschenk, state winner; Cody Hicks, fourth place
•Outdoor recreation – Nestor Sanchez, state runner-up
•Patio Cooker – Ulisez Fernandez, third place
•Outdoor furniture: Bailee Gray, state winner; Austin Hartman, state runner-up; John Rodriguez, sixth place
•Indoor furniture: Kadence Bazor, state runner-up; Mandy Sykora, third place; Nick Bierschenk, fourth place
•Decorative small project: Nick Bierschenk, third place; Tate Kelly, 10th place
•Functional small project: Ezequiel Olguin, state runner-up; Kadence Bazor, fifth place; Jayleigh Blevins, sixth place; Nick Bierschenk, seventh place
•Decorative large project: Nick Bierschenk, state runner-up; Allison Hicks, fourth place; Sethan Reed, sixth place
 Those exhibiting projects but not placing were Nolan Birks, Patrick Coffey, Creed Treadwell and Lynssey Poag.