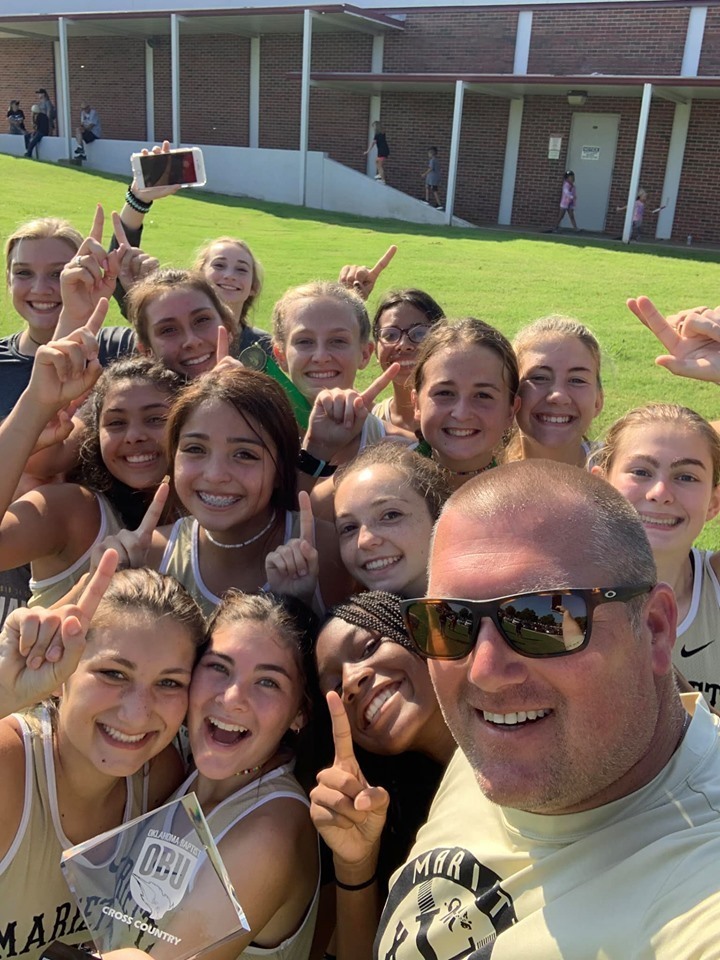 Lady Indians Cross Country Runners Win Big at OBU
Joani Hartin, Public Information Officer
Wednesday, September 18, 2019
A solid performance on the campus of Oklahoma Baptist University on Saturday, September 14 earned the Marietta Lady Indians Cross Country team yet another win on the season.
Coming off last week's Lake Country Conference Championship, the Lady Indians came out strong in Shawnee to win the team title. To give you an idea about how commanding the victory was, the team with the lowest number of points wins.
On Saturday, the Lady Indians had only 54 points. The second place team from Hooker High School had 131, and the third place team, Lincoln Christian High School finished with 161 points. And that, race fans, is what you call a good, old-fashioned whoopin'.
"We tried some different strategies this week, and I feel like we learned a lot," said Coach Matt Appelman. "The results we got today will benefit us later in the season."
Appelman bragged on his senior leaders, Mandy Sykora and Kaelyn Dobbins, who finished the two-mile race in third and fourth places, with times of 12:14.94 and 12:26.41, respectively.
"I can always count on those two to give me a fantastic effort," he said.
He was also appreciative of freshman Tanasia Randle.
"Tanasia ran a personal best this week," Appelman said. "She continues to impress us and gets better every week."
Randle was the third Lady Indian across the line in 16th place with a time of 12:56.53, followed closely by the team's other new member Madison Lemons in 19th place with a time of 13:04.06.
"Sophie Love, Vanessa Rodriguez, and Abigail Alvarez also had a good day," Appelman continued. "They ran their best race of the year."
Rodriguez was 24th with 13:21.53, Love was 28th with 13:36.00, and Alvarez was 37th with 13:49.84.
While the boys team placed ninth on the day, there were bright spots in their performance.
"Wyatt Vinson ran unbelievably well, a huge personal record for him," said Appelman, "and Wilbert Salas had a great day, too."
Vinson finished in 8th place in 17:20.84, and Salas came in 47th in 18:48.03. The PR Appelman was referring to: 17:20 for 5K.
"Our boys team did not run our best race," Appelman remarked. "I felt like we should've finished third or fourth, but we were racing against some larger schools in higher classes."
Overall, Appelman was satisfied with what he saw from both teams on Saturday.
"It was a good meet for us," he said. "We saw some teams that will matter later on in the season, and I feel like we're in a pretty good position."
The next three weeks are some of the most arduous of the regular season for the Indians and Lady Indians.
"We will be running in Texas for the next three weeks against some huge schools with phenomenal programs that will push us and test our limits," said Appelman, obviously looking forward to the crucibles they'll face.
The teams will compete this week at Lovejoy High School, located at 2350 Estates Parkway in Lucas, Texas. The meet is scheduled to begin at 7 a.m. on Saturday, September 21.
Two pieces of information were released to the teams today that may or may not be impactful on the rest of their seasons.
First, the Indians and Lady Indians were informed that it was made official today that their former nemeses from up the road, the Plainview Indians have been moved into Class 3A for the 2019 cross country season. While in years past, the Marietta Indians were dominated by the Plainview Indians, recently, that has not been the case.
And secondly, the rankings are out. The Marietta Indians are ranked fourth in class 3A, while the Marietta Lady Indians are ranked first.
The Plainview Lady Indians are ranked second. This could be the makings of a barnburner at the state meet