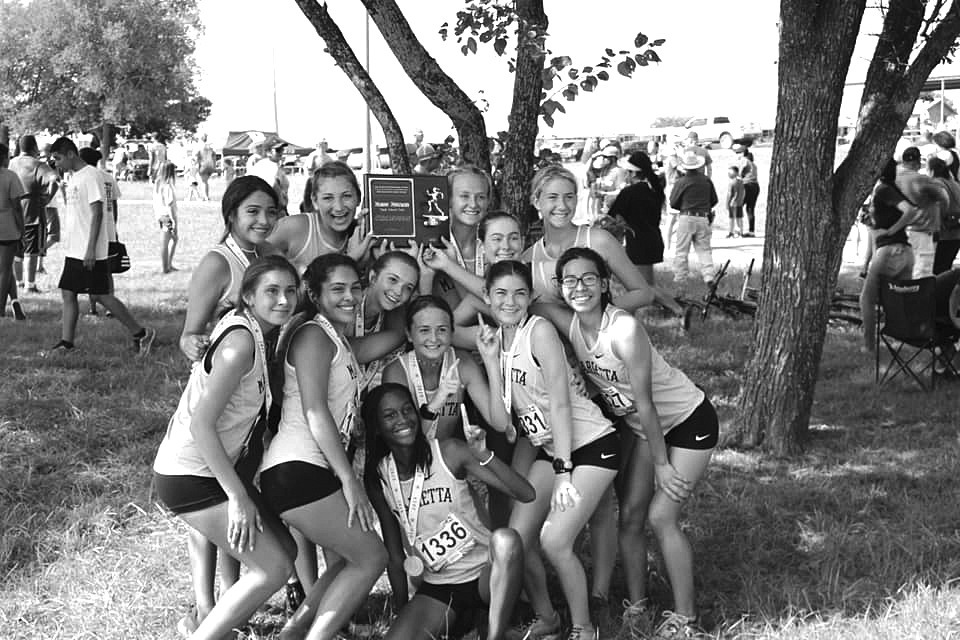 Lady Indians Cross Country 2019 Conference Champs
Joani Hartin, Public Information Officer
Thursday, September 12, 2019
Coach Matt Appelman's cross country teams laced up their running shoes and headed to Madill on Saturday, September 7 for the Lake Country Conference Championships.
The Lady Indians won the title, while the Indians came in second – by one measly point.
While the winning team Madill had 48 points scored by runners in first, eighth, 12th, 13th and 14th places, the Indians had 49 points with runners in third, fourth, tenth, 15th and 17th places. So, so close.
The highest finisher for the Indians was Danny Sanchez in third place with a time of 18:06.25 for the 3.1 mile run. Close behind him in fourth place was Wyatt Vinson in 18:09.23. Kyler Williams was tenth with a time of 18:45.46, and Wilbert Salas and Colt Bartling finished 15th and 17th with times of 19:10.06 and 19:22.32 respectively.
Wyatt Gwin finished in 33rd place, Cash Waterhouse in 42nd, Sergio Gomez in 48th, Preston Eastmon in 49th, and Matthew Ramon in 51st to round out the rest of the team.
For Appelman's boys, who expected 2019 to be a real rebuilding year, Saturday's performance was a big win in more ways than one.
"The boys ran very well on Saturday," said Appelman. "They are gaining confidence and will continue to do that the rest of the season.
"Even though not many people expected them to do well this year, these boys are starting to understand that they have a shot at being a podium team at the state meet."
That fact is evidenced by Sanchez's expectations for the rest of the season.
"Personally, I want to beat my time and place higher than sixth at state," he said, "and for our team, I want us all to run our best races at state, beat Oklahoma Christian, and win state."
The Lady Indians, loaded for bear since the get-go this season, Saturday's conference championship was another race on the road to state, but a race they were glad to win.
The girls won the race with a time of 1:07.55, over perennial powerhouse Plainview, Madill, and Byng in second, third, and fourth places. The Lady Indians beat the Plainview Lady Indians by over a minute.
Marietta seniors Mandy Sykora and Kaelyn Dobbins finished the race in first and second places. Sykora's time for the two-mile race was 12:55.69, while Dobbins's was 13:01.10.
Close behind the dynamic duo was teammate Madison Lemons in fifth place with a time of 13:37.54.
Tanasia Randle finished 11th in 14:03.61. Rounding out the top 20 were Vanessa Rodriguez who finished in 15th place in 14:17.20, Abigail Alvarez in 18th place with a time of 14:42.58, and Isabella Salas Garcia finishing the race in 14:47.10, good enough for 19th place.
As for the remainder of the Lady Indians, Sophie Love came in 22nd, Jayleigh Blevins in 24th, Vegas Bell in 29th, Rosie Castellanos in 33rd, and Timberlee Riley in 46th.
"We competed well," said Appelman, "and I'm proud of the girls."
Appelman credits the team's depth with their ability to win a close race on Saturday.
"There have been years when we might not have been able to win a competition like that," he continued, "because not everybody ran their best race, but our team is deeper this year than we ever have been, so we were able to win the conference championship, which is a tough meet."
After the meet, Appelman and the squad took a few minutes to enjoy the win. Then, as is their modus operandi, they began strategizing for their next meet, which is scheduled for Saturday, September 14 on the campus of Oklahoma Baptist University in Shawnee.