In unison with schools across our state and nation we will be turning on our stadium lights each evening at 8:20pm, which is 20:20 military time, to honor our class of 2020 that had their year cut short and show the great pride and strength of our community during these uncertain times. Go Indians!
The OSSAA has officially cancelled all spring athletic activities for this school year. We are not allowed to conduct any practices, workouts, competitions of any fashion. There will be no summer team camps or summer workouts until we are given the ok by the OSSAA and local/state health officials. I know this is an extremely stressful and unprecedented situation but the safety and health of everyone is most important. I feel for the seniors in our spring sports as they missed out on finishing their careers on their terms. All of us coaches appreciate your efforts throughout the years and look forward to seeing what you go on to accomplish in the future. To our athletes who will not be graduating: let this serve as the ultimate example for not taking athletics or anything in your life for granted! As we look towards next year, every athlete in the state is going through this same experience; find ways to become a better athlete even while we can't officially meet and workout. Most importantly though, stay safe and do your part to keep everyone healthy. If you have any questions please contact me by email at
jmesser@mariettaisd.org
. Go Indians! Jared Messer, Athletic Director
Due to the statewide mandatory school closing, all athletic contests, practices, and workouts are suspended until further notice. We will keep athletes and parents informed as we receive specifics moving forward from the state and OSSAA.
Tonight the Indians and Lady Indians play their last home game of the season vs Madill! JV Girls start at 4, with boys to follow We will honor our senior athletes at 6 before the varsity girls tip off at 6:30
There will be no Junior High basketball games tonight vs Kingston
🏀🏀🏀🏀🏀🏀🏀🏀🏀🏀🏀🏀🏀🏀 The 2nd Annual Ronnie Moore Invitational kicks off today at 10am! Schedule for today: 10am: Girls- Dickson vs Ardmore JV 11:30am: Boys- Dickson vs Healdton 1pm: Girls- Thackerville vs Healdton 2:30pm: Boys- Madill vs Turner 4pm: Girls- Madill vs Turner 5:30pm: Boys- Pilot Point vs Springer 7pm: Girls- Marietta vs Springer 8:30pm: Boys- Marietta vs Thackerville To get in the holiday spirit, join the Marietta coaches in wearing your ugliest Christmas sweaters!
Tomorrow boys and girls 7/8 grade basketball teams will participate in the Madill Tournament Madill HS Gym 8th girls 7pm 8th boys 8pm Madill MS Gym 7th boys 7pm 7th girls 8pm
Reminder: Boys Basketball Parent Meeting this evening at 6:30 in HS gym. This is for all boys basketball players grades 6-12
This week in Marietta Athletics: Tuesday: 6th basketball @ Madill Tourney (girls 7pm, boys 8pm) 7th basketball @ Dickson Tourney (girls 4pm, boys 5pm) 8th basketball @ Kingston Tourney (girls 7pm, boys 8pm) Wednesday: JH/HS Boys' Basketball meeting 6:30pm HS Gym (all boys players 6-12) Thursday: 6th basketball @ Madill Tourney TBD 7th basketball @ Dickson tourney TBD 8th basketball @ Kingston tourney TBD Saturday: JH Tournaments TBD
Friday night, the Indians host Coalgate in the final game of the season. Senior night will begin at 6:45 with kickoff at 7:30pm!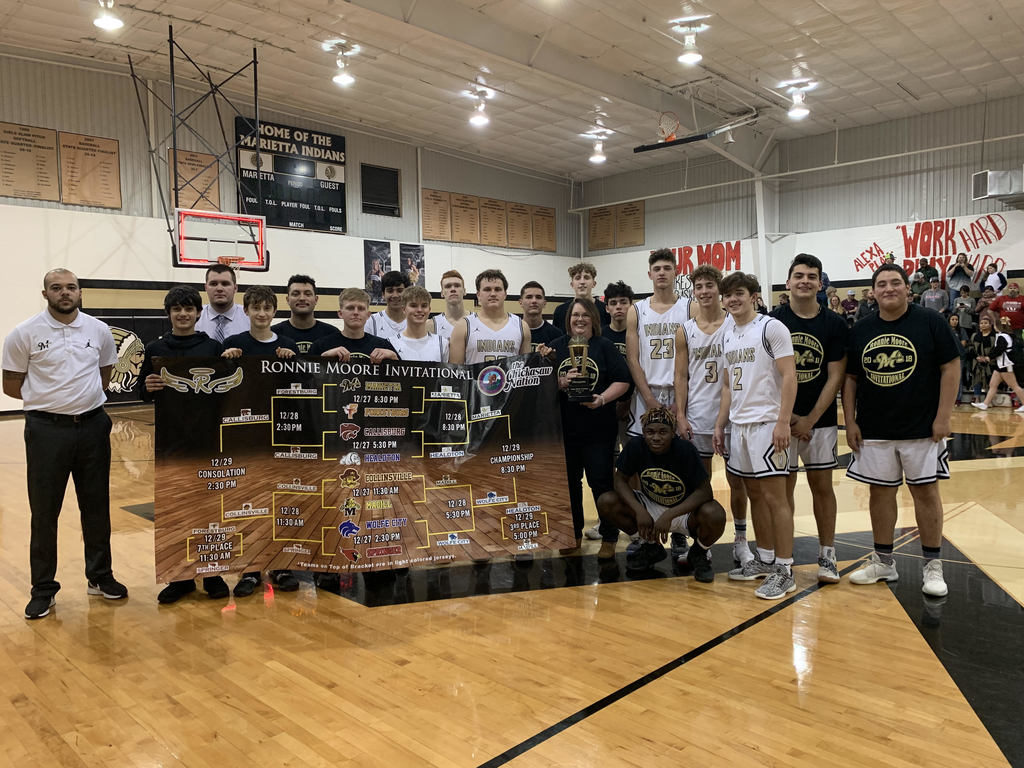 Marietta Indians take 3rd at state meet!
Marietta Lady Indians 3A STATE CHAMPIONS!
🏆👟🥇🏆👟🥇🏆👟🥇 Come out and support our Cross Country teams today as they each look to defend their state titles! 📆 October 26 ⏰ 3A Girls 3:30, 3A Boys 4:15 📍Gordon Cooper Technology Center Shawnee, OK
HS Football Tonight Kingston Redskins vs Marietta Indians 7:30 kickoff Peewee football and cheerleaders get in free with uniform on!
Tomorrow's high school football game is our peewee football and cheer night. Please join us. All of the Marietta peewee football and cheerleaders will get into the game free. The football players will run out with the boys before the game and be announced at halftime. The cheerleaders will be cheering with the high school girls until halftime when they will perform. Game starts vs Kingston at 7:30!
Tomorrow night's game vs Ringling will be played at McClain Stadium at 7:30pm!
This week in Marietta Athletics: Today: HS Softball vs Dickson 4:30 (home) JH Softball @ Dickson 4:30 JH Football @ Coalgate 5:30 Tuesday: JH/HS Softball @ Turner 4:30 JH XC @ Silo Thursday JH Football @ Davis Friday JH/HS XC @ Plainview HS Football vs Ringling While we hope and expect to play Friday at home vs Ringling, the final call will be made by Thursday afternoon. Ringling will host if we are unable to play here.
HS Football Marietta at Elmore City 7:00 kickoff Go Indians!
Due to the inability to use our bleachers, Monday's junior high football games will be played @ Coalgate beginning at 5:30.
Tomorrow's HS Football Game at Elmore City will kickoff at 7pm instead of 7:30pm as shown on the schedule!
Today's JH Softball game at home will begin at 4pm instead of 4:30.
Good luck to our HS and JH XC teams as they compete at the conference meet at Madill this morning! 🏆🏆🏆
Healdton 6 Marietta 0 Halftime
Marietta 0 Healdton 0 End of 1st
🏈HS Football🏈 ⚫️Marietta vs Healdton🔵 📍Plainview High School 📆 Tonight ⏰7:30 pm Go Indians!
Come out and support our JH and HS Softball teams this afternoon as they take on Thackerville beginning at 4:30 with the JH game!
Thursday's JH Football games vs Madill have been cancelled due to neither school being able to host. We are working to find a possible date to reschedule.
Friday's HS Football Game vs Healdton will be played at Plainview HS at 7:30. Marietta fans enter through front gate and sit on the home side. Come out and support your Indians as they kick off the season!
HS Softball game at Dickson this evening will begin at 5pm
JH/HS FOOTBALL Meeting in Auditorium around 6:30 tonight
The Elementary XC Meet has been moved to this Thursday at the same time.
HS Softball is at Wayne tonight, not Healdton
Don't forget Marietta Athletics is selling season passes for the 2019-2020 school year. These passes are good for all home athletic events besides OSSAA playoff contests! You may fill out an order form and pay at school offices Adults: $50 Marietta Students (K-12): $30
Marietta Athletics this Week: Monday 8/26 HS Softball @ Healdton (3 way with Wayne) JH Softball @ Sulphur Tuesday 8/27 Marietta Elementary XC Meet 5:30 at Legacy Park Team Pictures JH/HS Football and Softball JH/HS Parent Meeting 6:30 in Auditorium Thursday 8/29 HS Softball @ Dickson JH Softball @ Kingston Saturday 8/31 HS XC @ Carl Albert
Marietta Softball Festival has been cancelled due to rain
Marietta Softball Festival has been pushed back to a 2pm start time due to rain at this point. Further changes may be made depending on the weather.
This week in Marietta Athletics: Monday: HS Softball @ Comanche Tuesday: HS Softball vs. Kingston (home) Thursday: HS Softball @ Wilson JH Softball Marietta Festival Friday: HS Softball Marietta Festival Saturday: HS/JH Cross Country Home Meet @ Legacy Park Go Indians!
All 6th grade students have been uploaded into the RankOne system as of this morning! As long as you know your student's school ID (lunch number), you can go to rankonesport.com and fill out the required forms. Forms must be filled out prior to playing. If you have a new student or a student who isn't showing up in the system, email Coach Messer at
jmesser@mariettaisd.org
with the following information and an account will be created for the student: Student Name Student ID Date of Birth Grade Gender Address Emergency Contact Name and Phone
A few important reminders as we are about halfway through summer: All athletes must have an OSSAA physical dated after May 1, 2019 on file before they are allowed to participate in official practices or games that begin soon. Athletes need to turn these in to their head coach or Coach Messer. Also, all forms in the Rank One program must be completed before being eligible to participate as well. These have to be completed each year. If you created an account last year you should be able to log in to that account once again this year. You will need the athlete's name and school ID. There will be opportunities to complete these at enrollment and at specific sport meetings. However, it is best to get them done as soon as possible! Here is the link:
https://www.rankonesport.com/content/
If you have any questions or problems email Coach Messer @
jmesser@mariettaisd.org
Thank you for your cooperation!
Beginning Saturday, June 29th until Monday, July 8th the OSSAA requires all schools to take a "dead week". During this time, there will be no workouts, practices, or open gyms of any kind. Athletes may not use any of our facilities for any reason. Coaches and athletes cannot have contact away from school facilities for athletic purposes either. This is the first year for this policy, thank you for your cooperation. All workouts may resume Monday, July 8th!