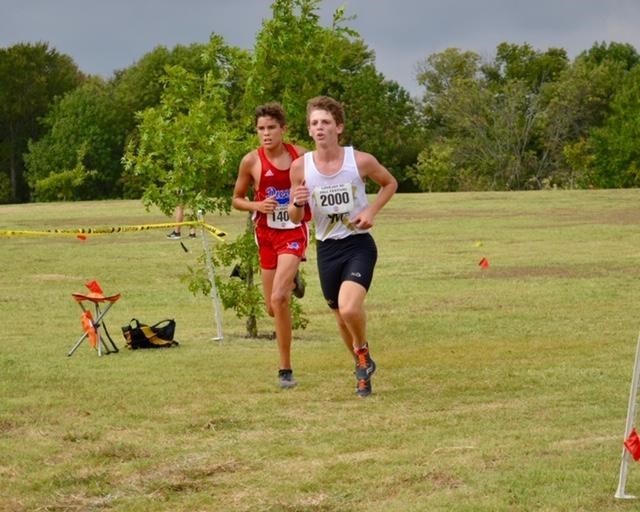 Indians run strong at Lovejoy
Joani Hartin, Public Information Officer
Wednesday, September 25, 2019
Marietta's Indians and Lady Indians ran against the cream of the crop on Saturday, September 21 at Lovejoy High School Cross Country Fall Festival in Lucas, Texas.
The meet, which included roughly 100 teams, routinely features some of the most elite high school cross country runners in the sport from schools all across North Texas.
"Our girls didn't have a good day," said Coach Matt Appelman. "I think we learned some things from running a 5K race, which is longer than we normally run, that will help us the rest of the season."
The best finishers for the Lady Indians were Mandy Sykora in 19th place with a time of 19:46.45 and Kaelyn Dobbins in 53rd place in 20:38.82.
On the other hand, the boys were a different story.
"Our boys ran their best race of the season," Appelman said.
The boys placed fourth as a team running in the 4A and under division against over 25 other teams.
"The boys ran against some of the best teams in North Texas," said Appelman, "and they ran well. I am very proud of their effort."
Wyatt Vinson, who had a personal record last week at OBU, blew that out of the water.
"Wyatt ran a huge PR, 20 seconds faster than last week's race," Appelman remarked.
Vinson was third overall with a time of 16:52.47.
"Colt Bartling ran 40 seconds faster than he's run all year," he continued, "and Kyler Williams and Wilbert Salas both ran a great race – Wilbert ran a personal best."
Williams finished the race in 13th place with a time of 18:00.10. Salas and Bartling finished in 36th and 37th places with respective times of 18:49.21 and 18:49.56.
Appelman is more than satisfied with the progress his Indians are making, especially since this is a team that nobody really expected much from when the season started. You lose several runners to the sport at the collegiate level and people just write you off. Go figure.
"Our guys are improving and are starting to believe in themselves."
Turns out that's a more powerful motivator than having a bunch of people think you're not going to amount to much.
The teams race next in Denison, Texas on Saturday, September 28.